We are having a special live Sunday show tonight from DC!!  We'll be talking about the preparations for the inaugurations, as well as checking in at some of the pre-inauguration festivities.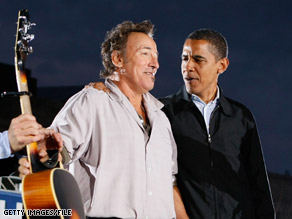 Dozens of major celebrities will perform on several nationally televised shows, as well as 10 inaugural balls the evening after Obama is sworn in as the 44th U.S. president.
The celebration will open Sunday evening on the steps of the Lincoln Memorial with a free concert so star-studded it's hard to choose a headliner.
Beyonce, Bono and Bruce Springsteen are on the list.
Other musical performers include Mary J. Blige, Garth Brooks, Sheryl Crow, Renee Fleming, Josh Groban, Herbie Hancock, Heather Headley, John Legend, Jennifer Nettles, John Mellencamp, Usher Raymond IV, Shakira, James Taylor, will.i.am, and Stevie Wonder.
UPDATED:  Here's a great story on how DC's social scene will be changing with the incoming administration – Read it HERE
Filed under: Inauguration • Larry King Live • President-Elect Obama