by Former Secretary of State Colin Powell
Next week marks a fresh start for our nation. Whatever one's political leanings, each presidential inauguration is an opportunity for Americans to renew the energy required to deal with the challenges we face - never more so than when the challenges we face are without precedent.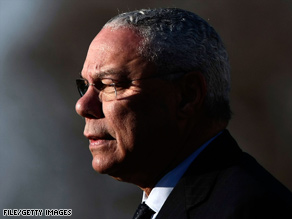 Over the course of their transition, President-elect Barack Obama and Vice President-elect Joe Biden have spoken with confidence and acted with competence. They've unveiled their plans for governing - plans that recognize it will require federal money to solve our economic problems at home, and diplomatic and military skill to meet our obligations abroad.
But they also realize an equally important truth. While government has a role to play in restoring the American dream at home and rekindling the dream that is America abroad, there are limits to its ability to restore our sense of purpose as a nation. That task falls to us. Particularly in hard times like these, we are charged with living up to our shared responsibility to one another.
(Read the rest of Powell's column here)
Filed under: Colin Powell