President George W. Bush is putting the finishing touches on a farewell speech that will be given tonight at 8pm eastern.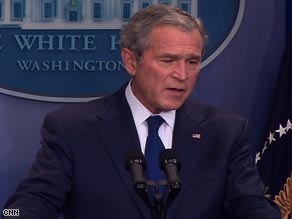 It is more than a goodbye to the nation that elected him twice. It is his last chance in office to define his tumultuous presidency in his own, unfiltered terms – a mission that will keep his fire burning even after he fades off to a quieter life.
Bush will say goodbye to the country Thursday night. He will follow the script of Presidents Bill Clinton and Ronald Reagan and Jimmy Carter and many before them: Express thanks to the country and pride in the honor of serving, wish the next president well and outline what he considers to be the biggest challenges ahead. In a sense, the goodbye address will underscore the competing accounts of his presidency one last time as his loyal backers and his critics see his record in different ways.
Filed under: Larry King Live • President Bush