We talked with Michael Moore on Larry King Live.  The filmmaker's deep ties to the auto industry start with his father, who worked for General Motors for 35 years.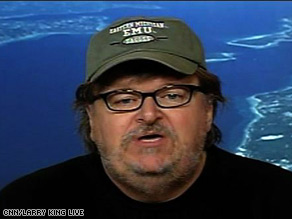 In 1989, Moore became an international figure for his film, "Roger and Me," which centered on the declining auto industry in his hometown of Flint, Michigan and the ripple effect on the town's residents.
Michael Moore: When I made that film, there were still 50,000 people working at General Motors in Flint. I mean they had eliminated 30,000 jobs, but there were still some jobs there.
Today, I think there's less than 12,000 working in the area, so it has devastated Flint. Flint was one of the first towns to go. When I made that movie almost 20 years ago, I hoped that the film would be a warning to other cities that this corporation was intent upon removing jobs from this country and taking them to Mexico and Brazil and other places.
What did you think of the interview ??  Weigh in here!!
Filed under: Economy • Larry King Live • Michael Moore