June 8, 2010
Posted: 07:00 PM ET
Joran Van Der Sloot Confession!
Peruvian authorities say Joran Van der  Sloot confessed to a murder in Peru. What does it mean for the Natalee Holloway case?  Larry has the latest!
Plus, crucial Democratic and GOP seats are at risk.  How will the Tea Party movement affect the vote? And, the Palin factor! Will her endorsement help or hurt candidates?
Live shows tonight at 9pm & Midnight ET!
What do YOU think about today's primaries?
Weigh in below!
Filed under: Justice • Larry King Live • Politics
Posted: 04:53 PM ET
"ZADE is a Jordanian musician of outstanding ability, whose creations have delighted the people of our nation... In these troubled days, ZADE represents the young seeking to bring peace and understanding to our troubled region and the world."
– Queen Noor
I have been extremely blessed with the gift of music, which has enabled me to share the dreams of my people with so many around the world.
I regard the blessing of music as a tremendous responsibility, for it gives me access to a language that has the ability to inspire across generations and creeds, and has the power to transform lives. I know first hand, because it transformed my life. Stemming from this sense of responsibility, and inspired by Jordan's historical role in championing the quest for peace in the Middle East, it was only natural for my work to be dedicated to building bridges of hope, tolerance, and compassion between our cultures.
I have been blessed with tremendous mentors in America and Jordan. From platinum selling producers and outstanding educators in America to the best Arabic music educators in the Middle East.  In Jordan, I studied music at the National Music Conservatory, which was founded by Her Majesty Queen Noor of Jordan. An exceptional role model, Her Majesty has been of tremendous support throughout my journey as she was there for me at my first public concert in Amman at the Citadel in 1999, and today she continues to support my endeavors in Jordan and the United States. Her Majesty Queen Noor taught me that true fulfillment is only achieved through sincere public service. Her latest effort with Global Zero, a movement launched and dedicated for the phased, verified elimination of all nuclear weapons worldwide is something that we all should support. You can learn more about Global Zero at www.globalzero.org.
Some of my most memorable events have taken place through the work of the Zade foundation for international Peace and Understanding, a US based non profit organization aimed at empowering young musicians who are passionate about sharing a deeper understanding of their respective cultures by offering them tangible career opportunities, thus bolstering the role of music maker to peace maker.
Filed under: LKL Web Exclusive
Posted: 12:30 PM ET
THE LATEST ON JORAN VAN DER SLOOT'S CONFESSION TONIGHT!
(via livinginPeru)
Joran van der Sloot admitted he killed Stephany Flores (21), because she allegedly used his laptop to look for information regarding who he was, according to a high-rank Peruvian government official.
According to a report aired by local TV station news hour America Noticias, van der Sloot said that his anger exploded after she used his laptop without his permission to perform an internet search, and thus learned about Natalee Holloway's case.
"I didn't mean to. She intruded into my private life," said van der Sloot. "She had no right... I approached to her, she was scared, we quarreled and she tried to run away. I grabbed her by the neck and hit her..." he continued.
They had arrived to the TAC hotel after 5 a.m. At 8:10 a.m. he went to buy coffee at a convenience store nearby and when he came back to the bedroom, found Stephany reading about his background on his laptop.
This confession provides grounds to accuse van der Sloot of homicide instead of aggravated robbery or aggravated murder, which have longer prison penalties.
Filed under: International • Justice
Posted: 08:22 AM ET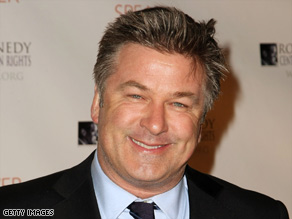 By actor Alec Baldwin (Via HuffingtonPost)
I was speaking to a neighbor recently, out here on the East End of Long Island, about the BP Oil disaster and the impact the spill is having on the Louisiana coast, it's wildlife and fishing industries. Eastern Long Island may be vastly different from the Gulf Coast in terms of culture and politics. However, both regions share a deep and historic link to their waters. Even today, areas on Long Island stretching from Riverhead to both Orient and Montauk Points seem linked, in a rather romanticized way, to a fishing past that has dwindled sharply over the past 40 years.
And yet, like my neighbor, I cannot imagine facing, here where I live, what Gulf Coast residents are facing now. The destruction in the Gulf region, like the Katrina debacle and the September 11th attacks, reminds us that we are one country and that the sudden loss or destruction of our nation's freedoms, monuments, culture, servicemen and women, natural resources, you name it, casts into sharp focus what is ours to protect and defend.
The Gulf of Mexico, at least that part of it that is ours to maintain and fish and enjoy, belongs to every American. Just like the Great Lakes, the Grand Canyon, Monterey Bay, The Rocky Mountains, Cape Cod, Park Avenue, the Lincoln Memorial, the Little League ball field in your town, the place you have coffee at every morning, or take yoga or the place you go to have coffee and make fun of yoga . What is happening down there is happening to you and to me. Because resources like the Gulf ARE this country. They belong to us. And if you aren't so goddamned fed up with this crap from the oil industry that you want to scream, then maybe you need to have some tar balls fall out of the sky on to your front lawn before you get it.
(Read More from Huffingtonpost)
Filed under: Alec Baldwin • Gulf Oil Spill
Posted: 07:36 AM ET
June 7, 2010
Posted: 10:00 PM ET
LARRY'S GUESTS WEIGH IN ON THE PRIMARY BATTLES TUESDAY NIGHT!
via Time.com
Voters in 11 states will go to the polls on Tuesday to pick which Republicans and Democrats they'd like to see slug it out in November. We'll find out if Blanche Lincoln will become the third Senate incumbent to lose his or her primary; which Republican will get to challenge Senate majority leader Harry Reid; and if Jim Gibbons of Nevada might be the first sitting governor to lose a primary.
This year's Super Tuesday of primaries is filled with intrigue, ranging from sexual indiscretions in South Carolina — and no, this doesn't involve Mark Sanford, Argentina or the Appalachian Trail — to massages for drug-addicted prisoners in Nevada. We'll also see some interesting tests of the power of the Tea Party movement: it's looking like the GOP Establishment candidate in Virginia's Fifth Congressional District has nothing to fear from his six Tea Party challengers, though such groups may succeed in bringing down South Carolina Representative Bob Inglis.
Here's a look at nine key races to watch:
1. Nevada's Senate GOP Primary
The Republican primary to see who will challenge Senate majority leader Harry Reid for his seat is quite a spectacle. Issues of late have included whether Establishment candidate Sue Lowden, a former chair of the Nevada Republican Party, is pushing a plan to barter chickens for medical care, and a Scientology-endorsed drug-treatment plan for prisoners that includes massages, put forth by Tea Party darling Sharron Angle. This race has gotten so ugly, there's a chance that "None of the above" — always present on Nevada ballots — could well win. Lowden and Angle are in a dead heat, closely trailed by businessman Danny Tarkanian, son of former University of Nevada Las Vegas basketball coach Jerry "Tark the Shark" Tarkanian.
Filed under: Politics is King
Posted: 07:00 PM ET
James Cameron Primetime Exclusive on BP Oil Disaster!
The groundbreaking film director, and expert on deep ocean technology, thinks he can help stop oil spill.   Hear his cutting edge ideas!
Plus, T. Boone Pickens!  He has a thing or two to say about the oil spill, BP, and what he'd do if he were in charge!
What do YOU want to ask James Cameron
and T. Boone Pickens?
Send us your questions!
Filed under: Larry King Live