(The Frisky) - Whether you're getting married or have decided to live in (gasp!) sin, the decision to cohabitate is one of the most nerve-wracking, potentially fight-provoking, all-around-scariest things you will do as a couple. Here are some pitfalls to avoid: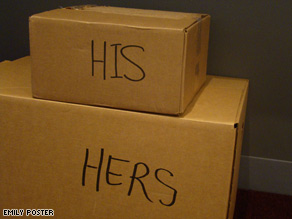 1. The Money-Saver Move-In: The recession is kicking everyone's ass, but if the major reasoning behind your decision to shack up is to save money, don't. Living together, while fun, is also hard work and you're going to need a big fat love connection when things get rough.
2. Romance Meets Finance: I know what you're thinking - enough with the boring money talk! But it's imperative that you figure out how you're going to divvy up the bills before you sign on the dotted line.
According to the National Survey of Families and Households, couples who felt money was being handled unfairly were 70 percent more likely to break up than couples who felt things were even. So it's really important you guys talk this out ahead of time. It's not as romantic as bickering over where the sofa should go, but it's far more important if you plan on staying together. The Frisky: Should you live together before marriage?
Filed under: Larry King Live