By CNN's Christiane Amanpour
Such has been the success of President Obama's first overseas visit that some observers are even suggesting North Korea's weekend rocket launch was not the dreaded "3 a.m. moment," but a golden opportunity for the U.S. president.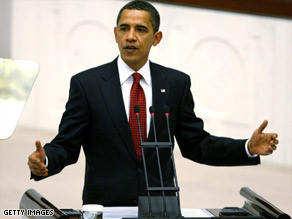 Coming just hours before Obama's big speech on combating nuclear proliferation, it added urgency to his proposals.
Analysts are also hailing Obama the deal maker, pointing to how he smoothed away Turkey's opposition to the former Danish prime minister becoming the new NATO secretary general. Turkey had objected because of the Danish cartoon flap, which Muslims viewed as insulting the Prophet Mohammed.
Days earlier at the G-20 summit in London, England, Obama was credited with getting last-minute consensus out of French President Nicholas Sarkozy and Chinese President Hu Jintao over tax havens and financial regulation.
Filed under: International • President Obama